Baidu Keeping Dominant in the Chinese Search Market
On September 10, 2020
baidu, china search engines, search engines
As the basic application of the Internet, search engines are important tools for netizens to obtain information. The search usage rate has remained around 80% since 2010, ranking second among all applications.
On the whole, the user growth of search engines has entered a period of steady development, but more diversified. With the rapid development of the mobile Internet, part of the search behavior of netizens has turned to mobile search. Mobile search has become a new growth point for search companies in the future.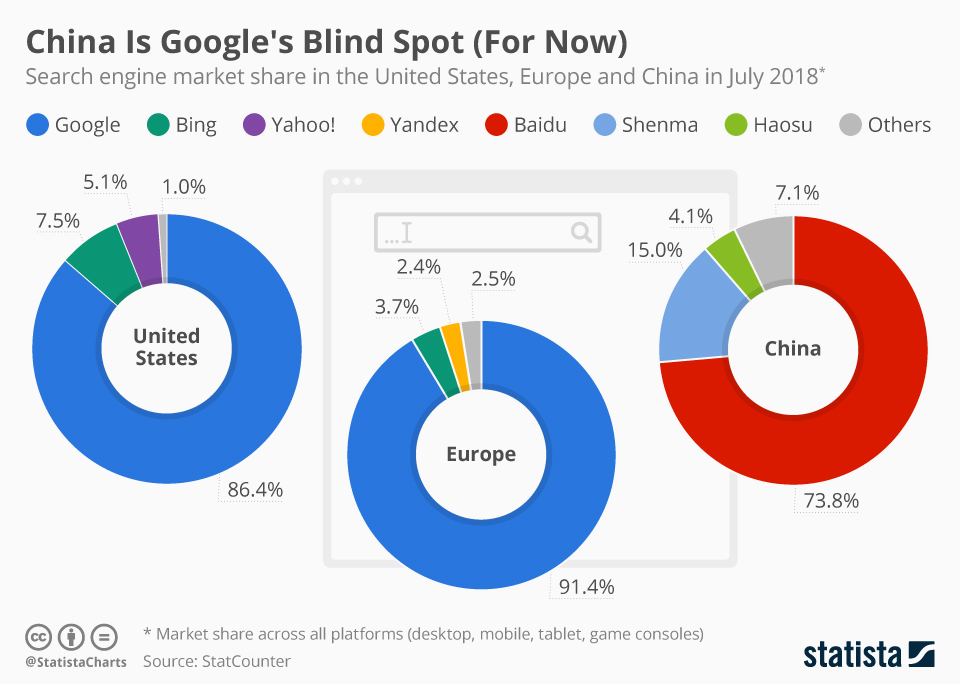 Google leading the world
According to StatCounter statistics, on a global scale, Google occupies a leading position in the global search engine market, with a stable market share of more than 90%. In June 2020, Google's market share accounted for 91.75%, Bing, Yahoo! , Baidu ranked second, with market shares of 2.75%, 1.70% and 1.02% respectively. The market share of other search engines is below 1%.
China's growth slowing down
At present, China's search engine industry has entered a stage of stable development after a period of rapid development. In 2014, the industry market scale grew by 50.56%, reaching the peak growth rate in recent years. In the following years, the growth rate of the industry gradually declined. As of 2019, China's search engine market has reached 108.704 billion yuan, a year-on-year growth rate of 10.15%, and the growth rate has rebounded slightly.
As of March 2020, the number of Chinese search engine users reached 750 million, an increase of 68.83 million from the end of 2018, accounting for 83.0% of the total Internet users. The number of mobile search engine users reached 745 million, an increase of 91.4 million from the end of 2018, accounting for 83.1% of mobile Internet users.
Baidu being dominant in China search
According to StatCounter statistics, Baidu occupies an absolute leading position in the Chinese search engine industry. Sogou followed closely, and the market share of Shenma, Haosou and Google was much lower than that of Baidu and Sogou. In June 2020, Baidu's market share was 66.15%, and Sogou search and Haosou ranked second and third with market share of 22.06% and 3.40% respectively.
The market still having room for growth
China's search engine market emphasizes both challenges and opportunities. The challenge is that the demographic dividend advantage in the Internet field is gradually decreasing, prompting search engine operators to shift from focusing on user scale to exploring user behavior. Community search and wireless search are directions that the search engine market needs to actively explore.
It is expected that the Chinese search engine market will maintain a relatively steady growth rate in the next few years. By 2025, the market size is expected to be close to 168 billion yuan.