Link building on Baidu Baike doesn't work anymore
On May 31, 2019
Baidu Baike, Baidu Baike links
As China marketers all know, it's really important to build links on Baidu Baike, because this would give extraordinary metrics to a website and great chance to get keywords ranking higher on Baidu.
However currently, it's found that links on Baidu Baike in reference section have been replaced by Baidu snapshots.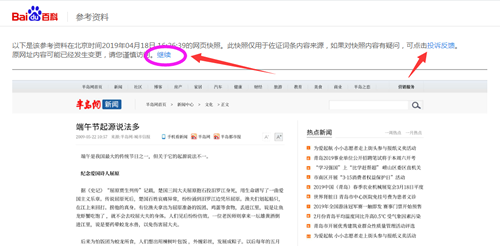 Through the picture, we can see that Baidu's reference link adds an intermediate page, which is a snapshot page.
This means that link building on Baidu Baike is no longer working. It is impossible to establish an external links through Baidu Baike.
The fact of snapshots indicates that Baidu is not comfortable with some websites because many stations often change pages or are hijacked. This not only ensures the stability of the reference page, but also ensures that the user can see the trusted content.
For webmasters, it is impossible to gain weight through the Baidu Baike in the future. The webmasters lost an important method of link building in China.