How to use WeChat Business Accounts
What is WeChat?
Free to use, and approaching 400 million users "WeXin" or English name "WeChat" is now the biggest mobile social platform in China. It is also popular overseas
Many local companies are already actively marketing using WeChat.
WeChat can be used for free on most global mobile networks, and we advise international companies can also should start marketing on WeChat as travelling Chinese will be happy to use the service.
Business and Personal Accounts:
WeChat has both personal and official business accounts more suited for those business kind users. Brands active on this social marketing platform are using it as a good medium for personally interacting with consumers.
The platform has proven to performs well on its own. A number of WeChat official accounts are featuring display ads within articles and sending to their readers daily.
Example Campaigns:
Below are some examples listed for using WeChat official account.
WeChat can also be used to drive traffic to mobile transactions.
Starbucks in China launched a social mobile campaign via WeChat, titled "naturally awake" connecting with Starbucks on WeChat.
Customers sent an emotion message to Starbucks and they will reply with a link to a song that fits your mood, based on your emotion complimenting interactivity with enjoyment of their food.
For the "Discover Route 66" campaign, Cadillac sent a group of travel photos to fans on WeChat. They also published travel safety notices, like adverse weather warnings.
Another example is the China National Museum's WeChat exhibition promotions. The museum sends fans the recent exhibition news and events' info.
Fans can also select and input artwork code, and the museum returns a enlargeable art image with voice introduction to the work.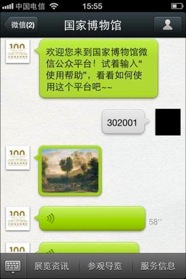 Follow us: qiyang_seo